By Debbie Butcher, Albuquerque Rose Society
The Albuquerque Rose Society was founded in 1948 to encourage interest in and cultivation of the rose. There were 58 charter members including many couples; married women were known by their husbands' names.  Member societies of the American Rose Society throughout the country were the inspiration for our local one, realized in great part by the efforts of Rosalie Doolittle.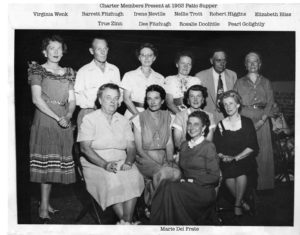 MEETINGS
The membership has always held meetings during the year to learn about and exchange information on roses, rose horticulture, and rose exhibition.  Places for these meetings included Albuquerque National Bank, Lovelace Medical Foundation offices on Gibson, and, beginning in 1977, at the Albuquerque Garden Center on Lomas. From the beginning, parties at members' gardens have been a large part of our life.  There's nothing like seeing roses in a friend's garden to inspire us to get more!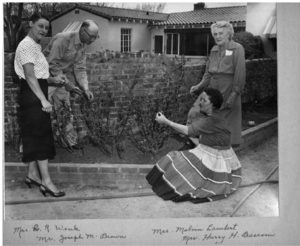 FIRST ROSE SHOW
One of the society's first organized activities was a rose show in 1949. This was held to afford an opportunity for the public to view a large number of rose varieties at their peak of beauty.  It was a judged rose show held in the late spring, with awards for the best specimens in dozens of classifications.  In these early days, the garden clubs were news!  Photos of exhibitors and lists of entries and winners appeared in the newspaper.  Hats, gloves, white shirts, and ties were common attire at rose society events. Rose shows were held in the lobbies of banks, fraternal organizations' meeting halls, Albuquerque Civic Auditorium, and at some of Albuquerque's nicest hotels.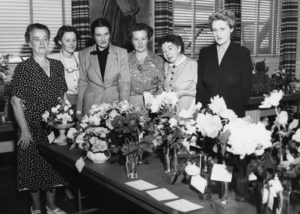 THE FIRST ALBUQUERQUE ROSE GARDEN
To provide an opportunity to see how well roses grow in Albuquerque, the original members planted the first Albuquerque Rose Garden in 1954 on a site at the University. As the city grew, the Albuquerque Rose Society worked with the City of Albuquerque to design and install a rose garden at the Prospect Park Library (now the Tony Hillerman Library) in 1962.  Leah Watterberg was most instrumental in the garden's design.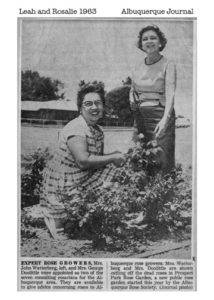 GROWING ROSES IN ALBUQUERQUE
The Society has also published many editions of a booklet called Growing Roses in Albuquerque that contains information on growing roses in our arid climate.  The booklet includes a list of roses suited to Albuquerque's climate and growing conditions and has inspired hundreds of Albuquerque rose growers.  In addition to the roses our members buy at local nurseries, the society has ordered and sold roses that were not available locally, such as very new introductions or old favorites that have gone out of commerce.
AMERICAN ROSE SOCIETY

Through membership in the American Rose Society, members of our local society are involved in regional and national events such as rose shows, conventions, and rose evaluations. A specially trained group of members called Consulting Rosarians are trained to answer specific questions. Qualified members travel to other areas of the southwest to judge rose shows of other societies, and members of other societies in the southwest come to judge our shows.
YEARLY ROSE SHOWS
The society has continued to hold rose shows every year, with that includes categories for roses, rose arrangements, and rose photographs.  Beginning in 2008 the society replaced the second judged show with a rose exhibition that provides an opportunity to exhibit roses in a non-competitive atmosphere.
PRUNING DEMONSTRATIONS EACH SPRING
The members of the Albuquerque Rose Society continue to maintain the Albuquerque Rose Garden and provide frequent opportunities for both members and the general public to learn more about rose culture and the best roses for Albuquerque. Residents of Albuquerque look forward to the yearly pruning demonstrations where they can watch or participate in pruning and learn from experienced members.  All those pruning tools and gloves that local residents bought from us have made the garden possible.