March 2019 Rose Garden Pruning Demonstrations:
March 9 & 10
March 16 & 17
March 23 & 24
10 a.m. to 3 p.m. at the Albuquerque Rose Garden, Tony Hillerman Library, 8205 Apache NE, (Southwest of Menaul and Wyoming)
The public is invited to join our members and learn about pruning techniques at the Albuquerque Rose Society's annual pruning demonstration event.  Volunteer pruners are welcome!  Bring your own gloves and pruning shears or buy some at the garden. We have more than 1,100 rose bushes that must be pruned this spring.  Our Master Rosarians will show you how to prune for the best summer blooms in your own yard. Bring your questions and join us!
See the Albuquerque Journal story about our Society and rose care published in the Sunday, June 18, 2017 edition.  Many thanks to Staff Writer Rosalie Rayburn and photographer Greg Sorber.
https://www.abqjournal.com/1019396/petal-power.html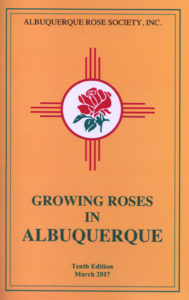 Growing Roses in Albuquerque 2017 Edition
Selecting roses, planting roses., pruning roses, fertilizing roses, growing roses. . . and more!  Just $6.00 by mail. Send your check to:
Debbie Butcher, 9601 Pebble Beach Dr. NE. Albuquerque, NM 87111
See the great write-up about our garden in the online magazine Garden Destinations!
The Albuquerque Rose Garden was also featured in the American Rose Society's January magazine.  Great article by Bill Farmer, Debbie Butcher and Claudia Bonnet.  Click here to open the pdf.
T
he American Rose Society, founded in 1892, exists to promote the culture and appreciation of the rose, through education and research
to members, to local rose societies and their members, and to the public.
The Santa Fe Rose Society is a chapter of the  American Rose Society, serving the residents of the City of Santa Fe and surrounding areas. It is responsible for the beautification and maintenance of the Harvey Cornell Rose Garden. The society has partnered with the Santa Fe Master Gardener Association and the City of Santa Fe Parks Division to preserve the beauty and character of the garden. The garden is open to the public and is located at the corner of Galisteo and Cordova Road. The Santa Fe Rose Society offers free and open meetings to the public on the first Tuesday of the month. Three Rose Garden Clinics will also be offered in the spring and summer. Click on the Schedule of Events pamphlet below to see a list meeting topics, dates and times.
Santa Fe Rose Society Schedule of Events. 
For more information about the Santa Fe Rose Society, call Jack Ortega at (505) 670-5821 or email him at : SF-rosesociety@outlook.com
The Pacific Southwest District of the American Rose Society includes links to all its affiliate local rose societies and information on growing roses.
The Council of Albuquerque Garden Clubs provides plant sales, flower shows, and gardening seminars to the public. It  is a non-profit organization that was formed in 1950.
The Council built, owns and operates the Albuquerque Garden Center, located at 10120 Lomas Boulevard (just west of the Eubank and Lomas intersection) in Los Altos Park.  The Albuquerque Garden Center is reputed to be one-of-a-kind in the U.S. Generally garden centers are owned and operated by the local government. The Albuquerque Rose Society holds its monthly meetings at the Garden Center as well as its annual rose show.
RoseShow.com. This site is owned and operated as a public service to rose exhibitors.  It provides a wealth of information on showing roses including rose show results from all over the country.  This website was set up by our past District Director, Bob Martin, a few years ago.
Rosemania is a commercial website that's a favorite of many of our members.  It offers products ranging from chemicals and safety equipment to garden equipment, garden tools and fertilizers.
Santa Clarita Valley Rose  Society.  Visit  this very informative website to learn all about roses, including rose planing, rose pruning,, fertilizing, types of roses, preserving cut roses, etc. This site was suggested by our Rose Garden Committee Chair Charlene Bacchus.
Southwest Desert Gardening.  A wonderful site by Susan Graham that is full of tips from her experience growing roses in New Mexico.