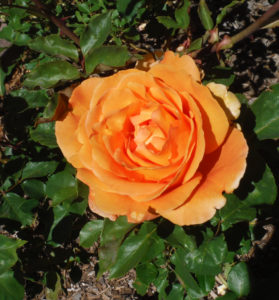 A single rose is highlighted at each of our monthly meetings with a brief introduction to the rose and its history. Roses that grow in our own Albuquerque Rose Garden are featured.  Below is the bibliography used by Katrine Stewart for these talks along with notes about each rose.
BIBLIOGRAPHY:
for Introductions to Roses Grown in the Albuquerque Public Rose Garden
Brenner, Douglas, and Stephen Scanniello. A Rose by any Name. The Little-Known Lore and Deep-Rooted History of Rose Names. Chapel Hill: Algonquin Books of Chapel Hill, 2009.
Chapman, Ann. Women in my Rose Garden. The History, Romance and Adventure of Old Roses. Bath: Palazzo Editions Ltd., 2014.
Frank, Sabine. Rosenliebhaberinnen. Ein Leben fuer Bluete, Duft und Dornen. Muenchen: Elisabeth Sandmann Verlag GmbH, 2012.
Wikipedia and other online research tools.
DR. HUEY:
You may guess why this dear doctor's story had to be part of our presentation. The red climber named after Dr. Huey can be seen all around our city as well as climbing up stoops and gates and doorways in much of the United States.
Dr. Huey was a Philadelphia dentist who had served in the Union Army during the Civil War. He planted a two-acre garden on the outskirts of Philadelphia in 1877. He wrote: "My earliest rose recollection is of an attempt to pluck a moss rose in my grandmother's garden and of getting my fingers pricked by the sharp thorns. Rescued by my nurse, the thorns were removed, and I was turned loose in the belief that a lesson had been taught. Nevertheless, I wanted that rose, and returned to the attack with a like result. Mother then appeared on the scene, took in the situation, cut the rose, removed the thorns, and made me happy with the flower. I have loved roses ever since." (By the way, his childhood memory might also prompt each one of us to think about our first rose recollection…)
Dr. Huey was frustrated by many failures in his first attempts to grow and cultivate roses. But he persevered and wrote later: "Knowing that many others were thirsting for knowledge, I began writing and talking of my experiences and how my difficulties were overcome, thus doing a sort of rose missionary work."
One of his friends, George Thomas Jr., claimed to have no interest whatsoever in roses, so Dr. Huey simply presented him with 50 rose bushes and had fun watching his friend catch the rose fever. In 1919 Thomas returned the favor and officially presented his mentor with the red climber Dr. Huey in the presence of dignitaries from the American Rose Society. The rose's parentage is Killarny imported from Ireland grafted onto the favorite European rootstock Rosa canina, or 'dog rose' -a climbing wild rose species native to Europe.
As rootstock, Dr. Huey has become the undercover agent of the American rose world who often dares not speak its name. The truth of its identity, however, has a way of showing up in unexpected places as we all know. The Brooklyn owner of a pink Royal Highness wondered why her roses had turned red. Gently, a sympathetic rosarian explained to her that her roots were beginning to show!?
HARISON'S YELLOW:
This rose plays a unique role in our country in the 19th century. Many Texans cherish it as their very own yellow rose of Texas. Little do they realize that it hails from the wide open spaces of New York City! George Folliott Harison, a reclusive lawyer, created this spring bloomer in the early 1830s in his garden. He did not keep any records of his work, so it is quite a mystery how it was produced.
Whatever Harison's technique, he struck gold with this shrub, the first rose of that color ever created in the United States. The rose went on sale in 1835 and cost $2.-, a high-ticket item compared to most roses that sold for $.50 at the time.
Harison's Yellow soon became the most popular and most traveled hybrid of its day. Homesteaders heading West, made room for the shrub in jam-packed Conestoga wagons. Like a few pieces of fancy china, these precious bushes would help to civilize their frontier homes. Many of the transplants ended up in Texas. No wonder the settlers' descendants soon believed the rose had always grown there and that it was indeed the "Yellow Rose of Texas" immortalized in the song.
Not quite. Anybody listening to the song's words realizes that the "rose" it celebrates is a woman, not a flower. Who exactly was this woman? We know that a certain Emily D. West, a freeborn African American, sailed from Connecticut to the Mexican colony of Texas around the time the rose went on sale. She became a servant in the small town of New Washington which was soon engulfed in the revolution for Texan independence from Mexico. The Mexican general Santa Ana invaded the settlement only to find that most on the American settlers had left.
This is where the story really becomes sketchy. One account says that the revolutionary leader Sam Houston, spying from a tree, spotted a slave girl fixing champagne breakfast for Santa Ana. That afternoon, while Texan troops routed the Mexican army, their commander skedaddled off the battlefield wearing nothing but underwear and a pair of slippers. Back in the tent, with the rest of his clothes, was Emily West, who had heroically distracted the general to give her countrymen time to stage the surprise attack.
Emily West had probably the light complexion of a woman of mixed race which was colloquially called yellow.  Whatever the case, this yellow rose remains a token of Texas pride.
LA BELLE SULTANE:
The mysterious Aimee Dubucq de Rivery was born in 1763 on the Island of Martinique as the daughter of a plantation owner. Aimee was a cousin and playmate of the future Empress Josephine. The girls supposedly visited a fortune teller together who predicted that Josephine would one day be more than a queen and that Aimee would be kidnapped off the North African coast. And so, in the traditonal way of prophecies viewed with hindsight, it happened;-)
At the age of 13 Aimee was sent to a convent school in France. On a return voyage to Martinique her ship disappeared and was possibly attacked by pirates who seized the beautiful girl they found on board. Recognizing their prize, they treated Aimee well, before sending her as a gift to the Ottoman Sultan in Istanbul.
She was described as having fair hair to her waist, strung with diamonds on invisible golden chains, dressed a la Turque with many layers and jewels, hennaed hands and feet, and a little jeweled pillbox hat. When her turn came – as it soon did – to be led along the Golden Path to the Sultan, she resisted at first, yelling and screaming and trying to run away. Despite these dreadful beginnings and 500 other concubines, Aimee became the second woman to bear him a son. A pavilion of spun sugar was built to celebrate their marriage.
The Sultan's wives traditionally spent much time trying to murder each other's sons and preventing their own sons from being murdered. Aimee must have possessed tremendous spirit to help her survive the traumas and politics of her new environment. She taught her son Mahmud French and became an advisor and influence at court for more western ideas. Only narrowly did her son escape being murdered before becoming Sultan in 1808. Many of his significant reforms are attributed to his mother's influence.
He was overwhelmed when she died and composed the epitaph on her grave: "Her highness and fame made a country into a rose garden."
La Belle Sultane is a stunning Gallica rose and there is no hint of the subdued concubine about her. Josephine's nurseryman Andre Dupont was most likely influenced by the incredible story of his patron's cousin when he named and acquired this rose for Napoleon and Josephine's garden in Malmaison.
PEACE
The story of this beautiful large-flowering hybrid tea rose is truly a cliffhanger. It began when the French rosarian Francis Meilland put a young plant under rigorous tests and presented what he called 3-35-40 in the spring of 1939. The response was enthusiastic, but the Second World War broke out. Meilland barely managed to supply his European customers but could not send anything overseas.
Then France required all nurseries to grow food crops for the war effort, and Meilland shoveled two hundred thousand rosebushes to make room for cabbages, rutabagas, and pumpkins, reserving only a small patch for prize hybrids. In 1940, with Nazi occupation under way, Francis spirited a packet of bud eyes from No. 3-35-40 to the American consul in Lyon, pleading to have them sent to Robert Pyle in Pennsylvania. The consul and his bundle caught the last plane out of France.
In the mean time, Germany sold the rose as Gloria Dei'(Latin for "glory of God") and in Italy as Gioia ("joy"). They obviously paid no royalties. Nor did Meilland know if his bud eyes had ever reached the States. When France was liberated, Robert Pyle almost immediately wrote him a letter stating that "with our hopes for the future, we dedicate this lovely new rose to Peace."
Two white doves were released when the rose made its debut at the Pacific Rose Society exhibition in California on April 29, 1945 -which amazingly coincided with the Allied siege of Berlin. Peace went on to receive the All American Award for roses on the day that the war in Japan came to an end. Later that year, each delegate to the newly formed United Nations received a stem of the  Peace rose. It went on to become the best-selling rose of the twentieth century.
This rose's story can be told over and over again because it encapsulates everything that we hold dear in roses – drama, love, and greatness of spirit. The timing of its launch was perfect. Within nine years some 30 million Peace rose bushes were flowering around the world.  Peace truly is a superlative rose, superior by far to the roses before it in terms of vigor, hardiness, and the long lasting ability of its blooms. The color is also magnificent, a pale, golden yellow deepening to red along the petal edges.
SOUVENIR DE LA MALMAISON  &

SOUVENIR DE ST. ANNE'S
These two roses and their names are symbolic for a crossroads in rose history. What seemed until then like a one track development for old European roses all of a sudden branched out into countless new possibilities. The person who made this happen under her watch was a beautiful Creole lady from Martinique. Her baptismal name was "Rose" although we mostly know her now by the name her husband gave her: Josephine!
At age 16 young Rose was shipped from her parent's sugar plantation to Paris for an arranged and not very happy marriage. Her husband was executed during the French revolution and she only narrowly escaped. In order to survive, Rose seems to have used her beauty and various connections to maneuver her way to the top.
In 1795, four months before their wedding, the up and coming military hero Napoleon writes to her: "I awake filled with thoughts of you. The intoxicating pleasures of last night, allow my senses no rest. Sweet and incomparable Josephine, how strangely you work upon my heart!"
Josephine spent her husband's money freely. It was her vision and energy and his funds that led to the purchase and development of the country estate called Malmaison, just south of Paris. The gardens became a repository for every known rose at the time, about 400 varieties all in all. When Napoleon's wars hindered the shipment of her rare roses, even blockades were ignored to accommodate his wife's hobby. We have lovely evidence of her vast and rare collection because she commissioned the artist Redoute to illustrate them.
Unfortunately, Malmaison fell into disrepair after Napoleon's defeat and exile. The building has now become a museum and attempts are underway to restore the gardens. A beautiful pink Gallica rose Empress Josephine was named in her honor. The Souvenir de Malmaison rose in our ABQ garden acquired its name when the Grand Duke of Russia obtained a specimen from Malmaison for the Imperial Garden in St. Petersburg. Souvenir de St. Anne's (also in our ABQ garden) traces its origins to the Dublin estate of that name (which has also fallen in disrepair) and is a sport of Souvenir de Malmaison.